Tips for Stopping Vandalism at your Retail Store
Protecting your Property from Vandalism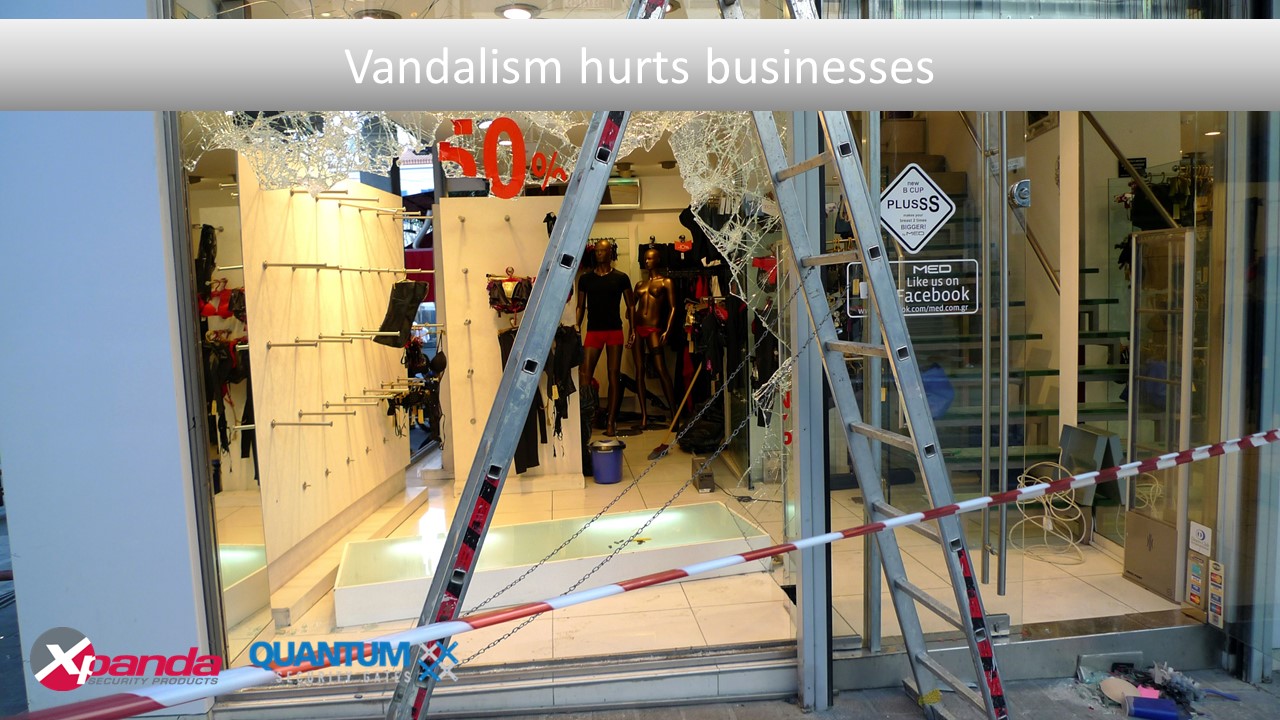 Vandalism looks bad. It hurts your business and cost you money. Not only will you need to spend money to clean up and repair the vandalized property, but it can also cause customers to stay away from your retail store. No one wants to shop at a property that has been damaged or vandalized. They don't feel safe. This hurts your business, your brand and even your neighbourhood.

Retail store vandalism can also make your property a bigger target for criminals. One way is by weakening your security. For example, if someone breaks your window and you don't fix it right away, it will be easier for a criminal to break in later on by entering through that broken window. Plus, criminals are more likely to break into a vandalized property because it looks damaged and, therefore, an easier target. They assume you don't care about security because you haven't repaired the damage.
Coming into your retail store in the morning and realizing that it has been vandalized can be depressing. It can even make you feel unsafe. This is why it is important to take action against vandalism as soon as you can. If you see a broken window at your store, fix it right away. If you spot graffiti, clean it up. Leaving vandalism alone is dangerous, so take steps to fix up your property right away.
Preventing Vandalism
Cleaning up and repairing damaged property can be expensive and time consuming. It interferes with the primary business of your retail store. The best way to prevent these hassles and expenses is to take steps to prevent vandalism from happening in the first place.
Here are a few tips:
Install lighting. Well lit areas attract attention and make it difficult for criminals to hide. By lighting your property, you decrease the chance of criminals damaging it. Try motion-activated lighting to reduce energy costs. These lights come on as soon as someone approaches your location.
Use fences, plants, shrubs or other such items to make it more difficult for would be graffiti vandals to get close to your walls.
Paint a mural over large, graffiti-prone walls. This eliminates the "blank canvas" and reduces the chances of someone vandalizing your property.
Repair damage as soon as possible. Criminals are more likely to vandalize a property that has already been damaged.
Installing physical security tools – such as security gates – can drastically reduce the likelihood of vandalism taking place. Security gates put a physical barrier between criminals and your property. They can be utilized to protect retail storefront windows, for example. By installing security gates and locking them at night, you make it significantly more difficult for criminals to break these windows.
These techniques do not just work to prevent vandalism. They keep your business safer overall. You can reduce the likelihood of smash and grab robberies, shoplifting and other crimes by taking steps to protect your business.
Crime is costly, inconvenient and damaging to your business. By taking steps to protect your property and including physical security tools such as security gates, you can secure your retail store, reduce crime and be able to get back to focusing on running your business.
Want some more tips to improving the security of your business? Download our helpful guide to Improving Your Security Mindset.