---
Thank you for the gates! They are perfect and we want to get more! You and your team exceeded my expectations

Thanks Don, Atlanta Cycling
Hello Barb. The install just got finished. And i gotta say….I am surprised. I was expecting there to be problems the entire way start to finish. I guess I have had bad experience in the past with contractors and projects with this kind of scale. And i gotta tell you…you guys delivered! From day 1 to today seeing the finished product. Working with you was a great experience. I was very skeptical doing this not only over the phone/email, but cross US borders (lol). I didn't know if i was getting scammed or if the final product was going to be lousy. So my apologies for doubting you guys and for all the questions and hoops you went thru to help me feel comfortable. The final product is amazing. I am very pleased. The installers knew what they were doing and were very professional. I couldn't be more happy. And so much weight has been lifted off my shoulders knowing now that my business is more secure when we are not there. Thank you for everything!

Andy, Palms Pharmacy
Thank you for all the help on this project.
The quality of the product is fantastic.
Your installers were polite, explained everything they were doing, and fast at the install.
I will recommend your company to everyone in my industry.
If anyone asks you for reference, tell them to call or email me.

Carolina Silver & Gold LLc
Thank you Xpanda for providing a great security solution for Criss Angel Mindfreak at Planet Hollywood • Las Vegas.
The design, fabrication and installation exceeded all of our needs. Your customer service is second to none.
Your company is now my go to for all future projects. Thanks again."

Criss Angel Mindfreak, Planet Hollywood
Good afternoon Ron,
Spoke to Alberto they'll be coming in tomorrow between 10 and 12. Thank you so much for being on top of things Ron. The promptness and Customer service you guy's provide is amazing.
Thanks again for everything.

Mo, Mountain Interior Design
Thanks so much for getting us our gates by our opening date! They fit perfect and are the envy of the whole market place! I see some of our neighbors are now getting their gates installed, so soon everyone will be as happy as we are….Thanks again!

Jeff, Hobby Farmer Canning Co.
Just wanted to let you know I installed the gate last week – what a well-made and well-designed bit of engineering.
Works perfectly – and looks good too. So well finished, I just installed it on the back of the stone rubble column without a pocket door – attached the hinges to a full length piece of 1 1/4" x 2 1/2″ white oak that we screwed directly to the stone. Then glued and screwed another piece of same sized oak over the first with mortises cut out for the hinges. Oak plugs in all the screw holes and finished the 2 1/2″ oak post to match the rest of the original 1960's millwork in the room.
Simple, secure, and an almost elegant mount (for a security gate) Looks like it belongs…
I Made a small oak block fitting we screwed to the original brick floor that uses a 1/2" square aluminum bar to hold the castor well and keep the gate from turning when retracted. Really neat and tidy – remarkable how small it becomes.
Couldn't be happier with the product – and the service. Physical resources guys from Trent have been in a couple of times and remarked on the gate – I'm sure they are thinking they could use similar units elsewhere. They were impressed with how slick and discrete the units are. I will pass along your contact info to them.

Rob, Nexicom
We installed the gates that you supplied yesterday and everything went very well and they look great. Thanks for your help on this job and hopefully we can do more in the future.

Evan, Pembroke Glass & Mirror
We're very pleased with all the gates, they have prevented any break ins occurring in any of our clinics since they were installed!
Best Regards,

Donna, Accounting Manager, EyeDocs
I do have to say I have been most impressed with your Company and the manner in which you handle your business prospects. Ron has been so easy and pleasant to work with, which is not the case with many of the other Companies I have dealt with. Even though it is just a quote, I place a lot of value in how someone responds to request and the willingness to work with me on the quote. I always pass this along to our clients when they are reviewing the information and making a decision.
Thank you again for your time and for being so pleasant to work with!
Sincerely,

Trish, Human Resources, Coleman-Adams Construction, Inc.
I just wanted to let you know how impressed I was with the ease of install and the quality of the gate we purchased from you. It worked really well in our unique application and was very easy to install.
Thanks,

Aaron Thorpe, Facilities, The Working Center.
The gates are as yellow and as sturdy as I expected. I'm also glad we could install the double diamond gate on our exit door. We can work all day with the door opened up and the double diamond gate keeping security while allowing compliant fire egress. The shipping door gates will keep security and allow ventilation on both dayshift and nightshift. This has been an issue in the past with only a couple staff working. Security becomes an issue when someone could walk right in. Our nightshift will be able to keep the doors open and ventilate the heat out of the building all night when it is cool.
Thanks for following up! It is not often I hear back from a supplier after they are paid.

Tim Larade,Waldale MFG.
Just a quick note to let y'all know that the gates installed nicely. They look and work terrific and we are very pleased with them. Your video was quite helpful and although I consider myself fairly handy, it was well worth the few minutes it took to review the video before proceeding.
I appreciate you working with me on the pricing and supplying us with a very good quality security solution at a price within our budget.
I will certainly recommend you to other retailers.
Thanks again!

Dan Gardner,Daisy Wireless, Metro PCS FL.
I purchased my Xpanda gates a little over 5 years ago and can easily say this is the best investment I have made in my store's security. We have had no break in attempts since installing them even though there have been several rashes of smash and grab type robberies in and around our shopping center. It only takes a few minutes to open and close them each day. When they are open they are very discrete and do not stand out in our gift area. The customer service is also great at Xpanda. They helped me choose the right product for my needs. I was so impressed with their company and their products that I bought additional gates for some other areas of my store that I needed to secure.

Adam Wheeler, Pharm.D. , Tanglewood Drugstore
Rent A Center operations include over 3,500 rental stores that offer name-brand furniture, electronics, appliances and computers. Our stores are typically in strip plazas and have vulnerable glass fronts. Before working for Rent A Center I had never heard of Xpanda.
With burglary incidents climbing within my area of responsibility Rent A Center was in need of a lower cost, durable gate solution. Xpanda has been that solution in many of our stores . In the last 7 years I have used Xpanda in over 1000 locations. The gate systems installed have been very effective in preventing break-ins and deterring additional burglaries. Not only have I been happy with the product, my account representative Ron Bombardier has been a great asset in helping me create solutions in Rent A Center's challenging layouts. Ron is very knowledgeable, always available, and works diligently to complete orders and fix any issues that surface.
Xpanda has been instrumental in the decrease in burglaries over the years. The product is affordable while maintaining an aesthetic look for our customers. I look forward to continuing the great relationship I have with Xpanda and Ron.

Brian Peacock, Director of Loss Prevention at Rent A Center
Hi Ron,
Some pics showing your gates in position. I'm very happy with their look and ease of function. Thank you, Dr Minie.

Stevin Minie,OD President at California Optometric Association
Caron,
It seems like all is order, it's been great doing business with your company. Everything up front and done professionally, especially you. I wasn't sure there were any companies left like that anymore.
Thanks

Steve Norman
I never got to thank you for getting the installer out to our store earlier than he wanted to come. I really appreciate it. The gates look great and have fulfilled their purpose. The thieves got the hint and have not tried to hit our store again.
Thanks

Charisse Ocasio at Swagger Styles and Sounds, Inc.
Everyone thinks I'm an overly nervous widow but I feel much more secure now.
I am quite pleased with the gates however I certain you could develop a slightly more attractive closure for patio doors like mine and sell a lot of them to security minded homeowners like myself. I would recommend them.
Have a great summer.

Karen
I understand the importance of having security for our stores. Bobby Chizen in British Columbia can attest to importance of his Xpanda gate ( Xpanda gates prevented his store from being robbed). I just have some follow up questions, and then we can move forward with Xpanda becoming an approved vendor.

Anon
Xpanda provided me with the comfort and well being of knowing my store is that much safer, Not only was the product above my satisfaction for security but the look and ease of use of Xpanda's gates were perfect to my stores look and feel.
Thank you so much Xpanda! Play N Trade Enjoys doing business with you!!

Anon
Hey, Folks at Xpanda
The night before last, our pharmacy had a break-in about 3:30 am. The thieves were able to jimmy & break the lock mechanism on the front door of the store, but were UNABLE to get past the Xpanda gate system. The gate system has a few minor dents & paint dings from the attempted entry, but no damage to their functionality that would render them unusable. We are very pleased that we decided to put in the Xpanda gate system, because I am certain that investment saved us thousands of dollars in losses last night. My congratulations & sincere thanks on your terrific product.

Anon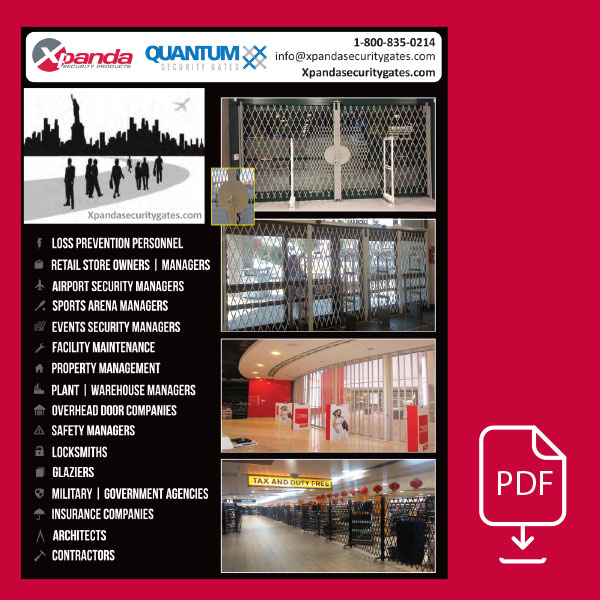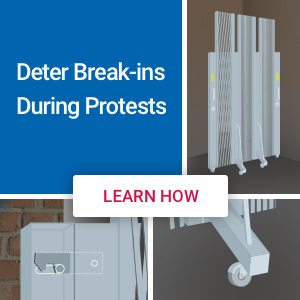 Improving Your Security Mindset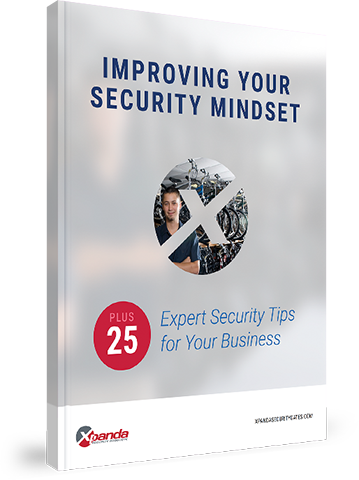 Get our free guide to facing the everyday challenges of ensuring your business' security, plus 25 expert tips that you can implement fast.