Frequently Asked Questions About Xpanda Storefront Security Products
---

Below you'll find quick answers to some of the most commonly asked questions about our scissor-style gates and other storefront security products. However, if you don't see the answer you're looking for here, or have a more detailed question, feel free to contact our team now at 800-835-0214 for immediate help.
How do I get a quote for security gates, window security grilles, or other Xpanda security products?
That's easy – just call us at 800-835-0214 or email us directly at info@xpandasecuritygates.com and we will be glad to help. We pride ourselves on having a knowledgeable, friendly, and experienced team. Feel free to call and ask as many questions as you'd like about scissor-style security gates and their possible applications.
How much will my Xpanda security gate or window security system cost?
It only takes a few minutes to get a specific quote from a member of our friendly team. In general, security gates and security system costs depend on the dimensions of the coverage area, the application for the product, and the specific system you choose.
No matter what you choose, though, it's likely to be far less expensive than lost inventory, replacement glass, aluminum framing repair, and other expenses that come with a break-in.
How long is the warranty?
We offer a 3 year warranty on our unique tubular steel security gates.
How long is the delivery time for your security gates and other products?
Standard security gates are normally stocked and can usually be delivered within 2 to 7 days depending on your location.
Roll down security shutters and aluminum security curtains can require 2 to 4 weeks for delivery, due to custom manufacturing requirements, drawing approvals, and other production details.
Where are you located?
Xpanda is perfectly situated with local sales/ installations across the USA and Canada including Mexico and island areas. To quickly respond to your security needs.
Can I buy your security products from a local dealer?
Although we do have authorized re-sellers in some cities, it would be prohibitively expensive for them to stock inventory. For that reason, we can supply security gates and other products more quickly than most dealers can. And we have installation technicians in almost every major U.S. city, so you can get your new gates working within days.
Can I install Xpanda security gates and shutters myself?
Generally speaking, scissor security gates can be installed by customers. However, installation of security shutters and aluminum security curtains is best left to contractors and professionals.
Why are roll down shutters and aluminum security curtains so much more expensive than security gates?
There are two reasons these types of products always cost more. The first has to do with materials; aluminum is more costly than steel. Also, because of the way roll down shutters and aluminum security curtains function, they need to be manufactured to your specific specifications (i.e., they can't be sold "off the shelf"), which leads to higher manufacturing costs.
Should I install security gates inside or outside my store?
We recommend you install your security gates inside the store, since that's where your motion and sound sensors are going to be. Because there are usually no alarm system components located outside, thieves would have all night (instead of a few minutes after the alarm goes off) to work on defeating your security gate locks if they were not inside your store.
But if I put security gates inside, won't criminals still break the glass in my store window?
In our experience, they probably won't. That's because strong security gates are a good visual deterrent. While your glass may technically be exposed, criminals are more likely to break into a property down the street where visible security products are not installed.
Can I use one storefront security gate to span my large storefront?
Probably not. Decades of experience have taught us that having security gates that are too wide causes them to lose their strength. Besides, we ship in modules to allow for easier installation and lower freight costs.
Are your security gate locks built in, or do they use padlocks?
Xpanda security gates have built-in locks that can be changed to match your existing doors. Our slam locks secure the brass lock body in a steel shroud and are covered with clean plastic molded parts for easy access and smooth operation.
Help! I don't know what I need to protect my storefront and don't want to spend more than I need to for reliable protection…
That's no problem – we make it easy for you to get the exact product you need and can afford. Give our team a call at
800-835-0214 (or contact us online) and let us walk you through all your options one at a time.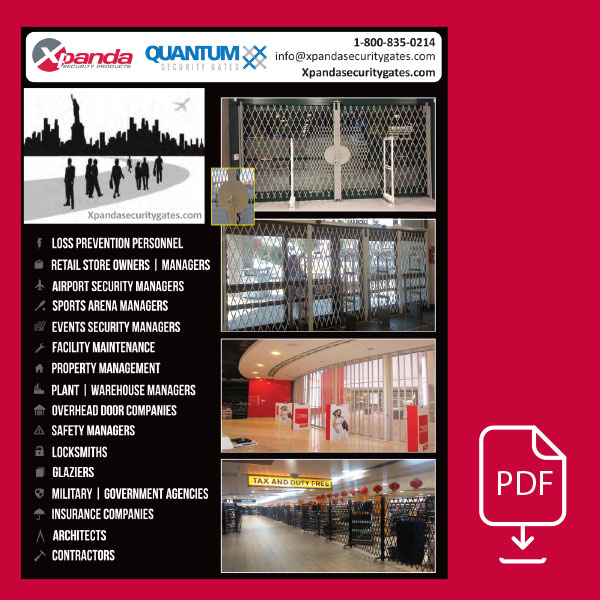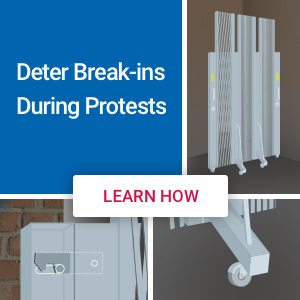 Improving Your Security Mindset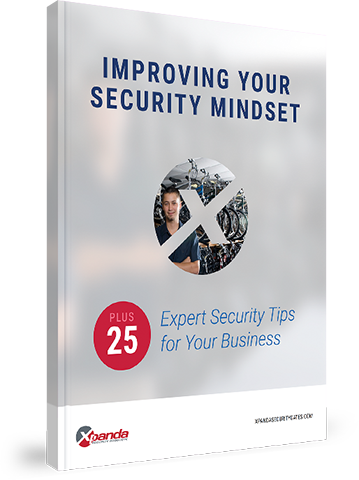 Get our free guide to facing the everyday challenges of ensuring your business' security, plus 25 expert tips that you can implement fast.