Why Pawn Shops Need Good Security
Pawn Shop Security Tips
Pawn shops are common in most cities and towns. These shops often contain a wide variety of different items, from jewelry and electronics to sporting equipment, clothing and just about anything else. This wide variety of merchandise makes pawn shops frequent targets for criminals.
But it isn't just the variety of merchandise that makes pawn shops frequent targets. Most items in pawn shops are second-hand items, which makes it very difficult to track them if they are stolen. The items are, however, usually in very good condition, so they can easily be used by criminals or resold on the black market. Some pawn shops even sell merchandise that can be used by criminals in other crimes, such as firearms or other tools. These items are frequently targeted.
Many of the items that criminals covet the most are small enough that they can easily be carried out of the property. This means that one or two criminals can very easily steal a large amount of valuables without the need or special equipment.
Securing a Pawn Shop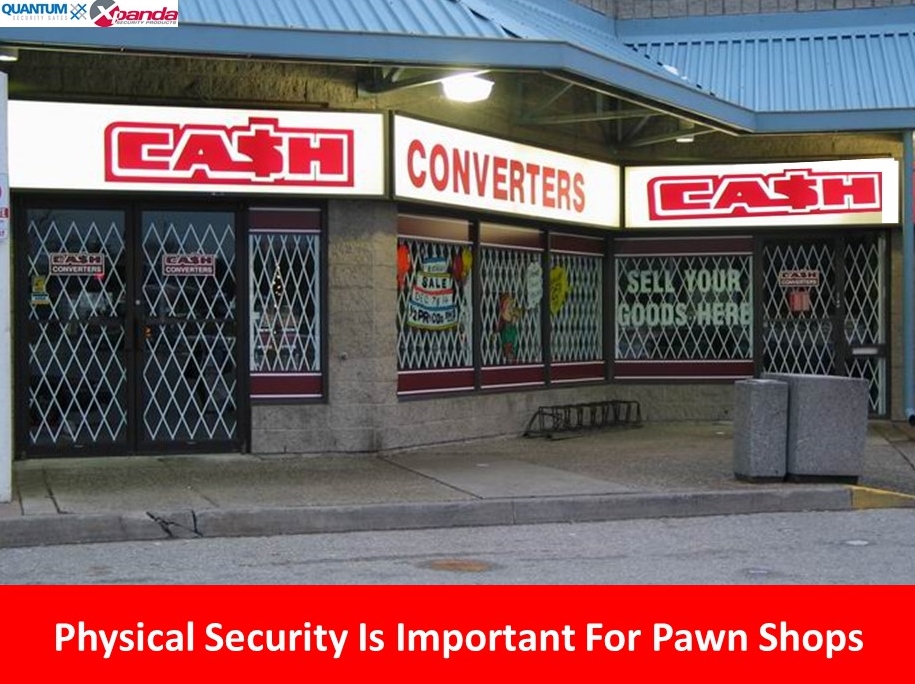 It is important that pawn shop owners understand how crucial 24/7 security is. While many shops use surveillance cameras, security guards and other tools during businesses hours, they don't always make a point to properly protect the property during the night.
For this reason, pawn shops are often targeted by smash and grab criminals. A smash and grab robbery is a crime where a criminal uses force to break through windows or doors in order to gain access. Smash and grab robbers usually count on being able to get in and out of a property quickly. This means that, even if the location has an alarm system installed, the authorities will not be able to arrive on scene in time to catch the criminals in the act.
Due to this fact, it's important that pawn shop owners install physical security tools. Physical security tools, such as security gates, make gaining access to a location significantly more difficult. Criminals do not want to spend a lot of time at a property. They know that the longer they remain on scene, the more likely they are to be spotted by passersby or caught by the police responding to an alarm.
For this reason, many criminals avoid attempting to break into locations that have physical security tools installed. They know that these tools are effective and that, even if they were able to gain access to a property, that they would need special tools in order to do so and that the process would be very time consuming. These facts often make break-ins at protected locations not worth it for criminals.
Security gates can be easily rolled back or folded out of the way during business hours, so you do not have to worry about them detracting from the appearance of your store.
When having physical security installed at your pawn shop, it's a good idea to not just focus on exterior windows and doors. Valuable items should be locked inside secure cabinets and stock rooms and other such areas should be protected by gates as well. Taking these actions will give your property effective security 24/7.
We have some more helpful tips to improving the security of your business. Download our helpful guide to Improving Your Security Mindset.