Smash and grab break-ins occur every 4 seconds in North America. Drug stores and pharmacies are common targets. Criminals often seek out these stores because they contain small items that are easy to carry from the scene, while still being valuable on the black market. Break-ins and robberies account for a significant expense for pharmacies in the United States and Canada. Not only do you lose the cost of the stolen goods in a smash and grab robbery, but also face a wide variety of other expenses and inconveniences. For example, pharmacy owners and staff have to deal with insurance companies, police reports, and other delays. There is also the cost of repairing any damage caused by the criminals and even the possibility of closing the store for a period of time while repairs and security improvements are made. Check out our photo page on Pharmacy Security Gates
Trust Xpanda Security Gates for Drug Store Security
Xpanda Security Gates is a North American leader in security gates and physical security. We have earned a solid reputation with over 30 years of serving the needs of businesses and corporate clients across North America. We pride ourselves on our superior coast-to-coast service and strong after sales support. We work with businesses of all types and sizes to provide physical security solutions that deter criminals and drastically reduce smash and grab robberies and retail crime. We've installed security gates in more than 12,000 locations across the continent. We place great emphasis on the quality of our products and services and proudly stand behind everything we sell and install.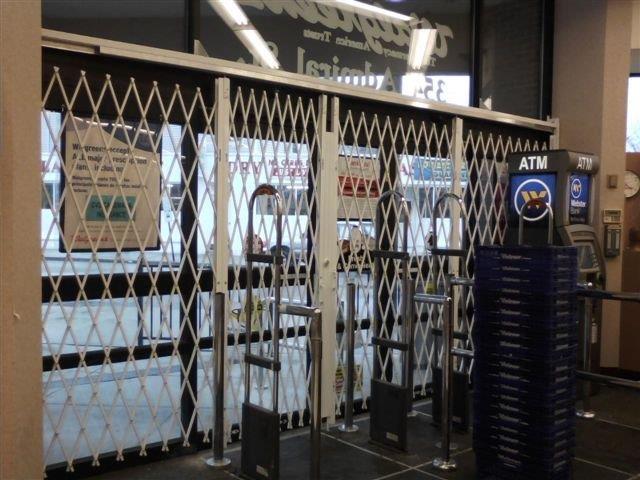 All of our products are competitively prices and come with a two-year warranty. Our network of experienced installers and security consultants always make sure that every product we sell is installed correctly and we always take the time to answer any security questions our clients have.
Criminals Target Pharmacies
Criminals know that drug stores and pharmacies contain desirable goods that can generally be taken from the store with ease and sold illegally without much hassle. Prescription medication, narcotics, and other drugs are common targets, but other commercial products are stolen as well.
A five-year analysis of pharmacy burglary and robbery by Pharmacists Mutual Insurance Company released in 2013 found that the front door or window of a store was the point of entry in 52% of drug store robberies. According to the report, "in most cases, the criminal kicks the glass, throws a rock or uses a tool to smash the glass. Doors are also attacked, typically with crowbars and wrenches."
The same report also stated that "video surveillance does not appear to deter thieves" and suggested "protecting doors and windows to slow down or eliminate the possibility of entry."
How Physical Security Tools Protect Pharmacies and Drug Stores
Criminals want a quick robbery. They know that the longer they take to break into a property, the more likely they will be caught in the act. For this reason, they prefer to strike targets where it is easy and quick to get in and out without much hassle.
Physical security tools such as window and door security gates deter criminals. They know that it will take a great deal of time to break through these gates, if they are even successful at all. In most cases, criminals want to be in and out of a property in a few minutes. Some crimes only take seconds if adequate security is not installed. Installing security gates makes the entire process much more difficult and time-consuming. In the vast majority of cases, criminals won't risk targeting a property if they feel it will take too long to commit the crime. For this reason, they avoid properties that have security gates installed.
Security gates are a strong visual deterrent. While other types of security such as alarm systems, surveillance cameras an even protective window film are effective in many ways, none of these tools are the strong physical and visual deterrent like security gates.
For more information or for a free no obligation quotation, please contact us today.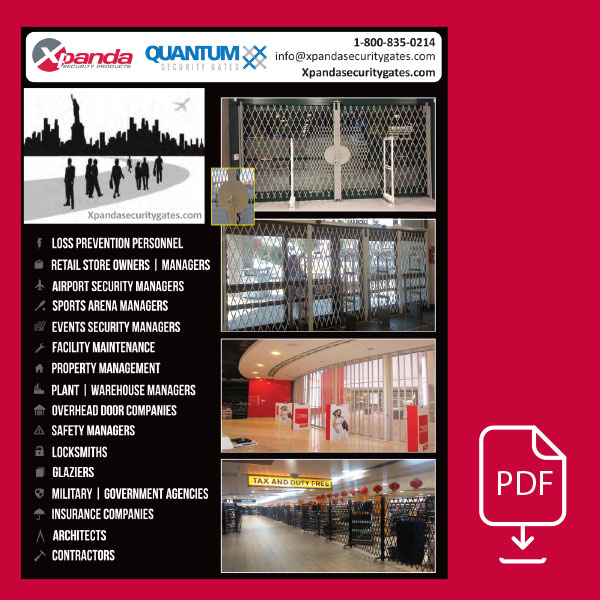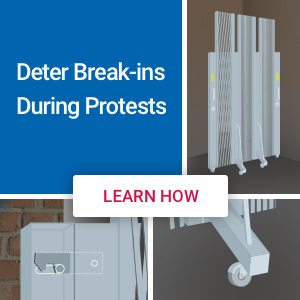 Improving Your Security Mindset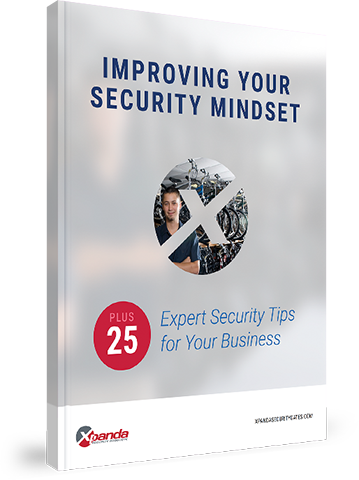 Get our free guide to facing the everyday challenges of ensuring your business' security, plus 25 expert tips that you can implement fast.