Using Security Gates for Access Control within a Property
Access Control: Limiting Access to Certain Areas
Security gates have a wide variety of uses. The most common and most well-known use is to protect properties from smash and grab robberies. Security gates are very effective at doing so and they prevent criminals from smashing windows, breaking down doors and using other violent methods to gain access to a property.
However, security gates also serve an important purpose at providing access control. This is crucial as many businesses and retail properties have areas of their locations that should not always be accessible to the public. One example is retail stores (such as drug stores) that have a cosmetics department. In many of these stores, the cosmetics section is only open during certain hours, while the rest of the store remains open for longer.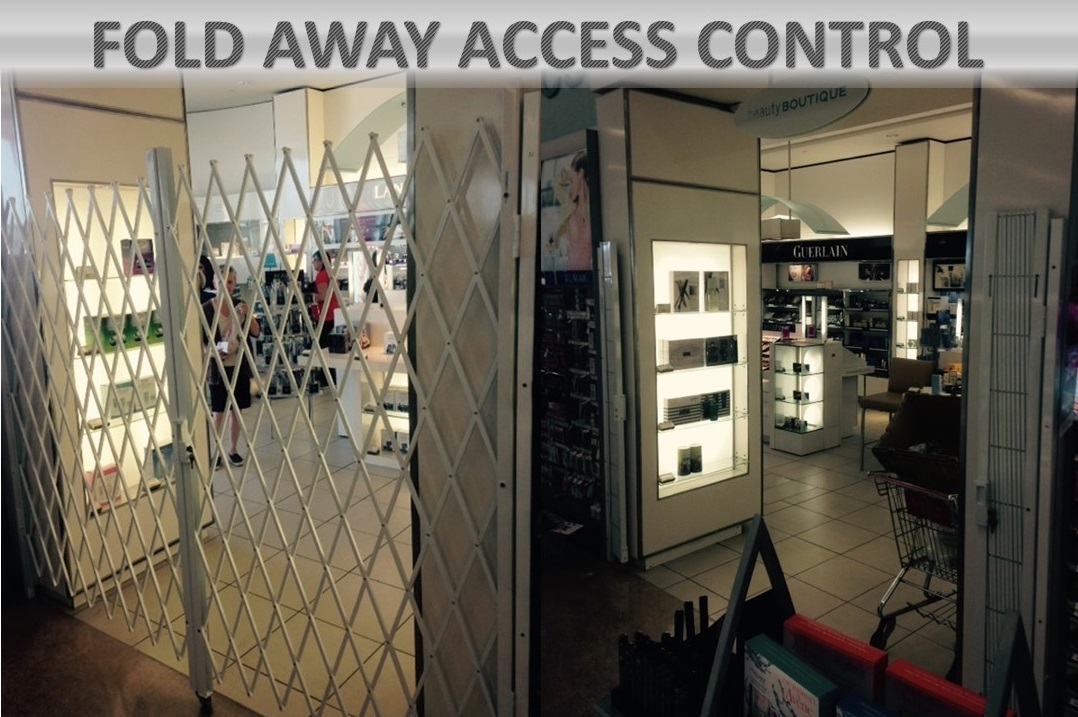 Reasons for this include staffing (the store only has the cosmetics section open while cosmetics staff are on hand) or in order to reduce shoplifting. Cosmetics are frequently targeted by criminals. This is because they are small enough to be easily slipped into a bag or pocket, but they are also quite valuable and worth a great deal on the black market. In order to reduce shop-lifting, many stores block access to their cosmetics departments when adequate staff is not present.
Using Access Control to Reduce Shoplifting
Preventing access is a great way to prevent shoplifting. While other security tools may dissuade shoplifters sometimes or draw attention to those who shoplift, only physically restricting access to areas that contain frequently stolen goods can provide full protection.
For example, security cameras may catch footage of shoplifters, but they also require that someone be monitoring this footage at all times in order to actually stop the shoplifters before they leave the property. This situation also requires that staff or security guards confront the shoplifter once the footage of him or her committing the crime is seen.
With security gates, you put a physical barrier between the criminal and the cosmetics department (for example). This allows you to lock out customers and potential criminals. It also means that you do not have to spend resources patrolling or monitoring the area when it is closed. Since no one can access it, there is a significantly lower risk of shoplifting or other crimes.
Security gates hold the same benefits over alarm systems. While alarms can draw attention to a crime in progress, they still require that someone react to the crime. This could mean a potentially dangerous interaction with a criminal. Security gates stop the crime before it takes place, preventing such situations.
In addition to securing cosmetics areas, many stores use security gates to control access to areas that have different hours from the main store. This includes locations that sell alcohol, guns and medication.
Restricting access to these areas drastically reduces the likelihood of a crime taking place and saves the business a great deal of money when it comes to staffing, shrinkage and loss due to theft.
Want some more tips to improving the security of your business? Download our helpful guide to Improving Your Security Mindset.