Taking Extra Security Precautions for the Holiday Season
Protecting your Holiday Merchandise from Shoplifters and Smash and Grab Thieves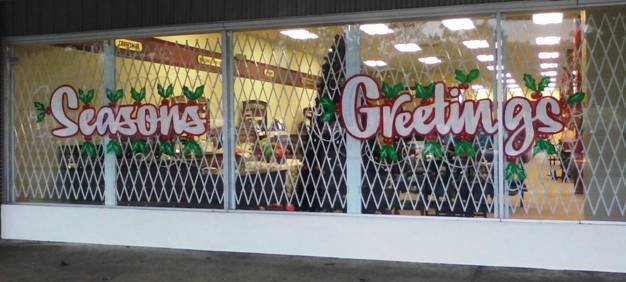 Now that the holiday shopping season is here, your retail store is likely stocking up on extra inventory. Unfortunately, while you're preparing for the holidays, so are criminals. They know that stores have more product and more expensive items in store at this time of year. Criminals often make plans to target stores at this time of year for these reasons.
Knowing this, it's important that you take the right security precautions to protect your property and your merchandise. Here are a few tips for holiday security and retail security.
Secure your Shipping and Receiving
When you're thinking of improving your security this season, don't forget about shipping and receiving areas. Criminals often target these locations because they can get a lot of merchandise very quickly. These crimes also allow criminals to steal merchandise in its original packaging, which is very valuable on the black market. Criminals also know that these areas often don't have adequate protection.
When you're loading items onto a truck or unloading them at your store, it's important that you secure all shipping and receiving doors. Using security gates is an excellent way to do this.
Security Precautions Using Physical Security
In addition to using physical security in shipping and receiving areas, you'll also want to utilize these tools at your store. Security gates serve as visual deterrents. Criminals know that it's much more difficult to break into a location that has physical security installed. For this reason, they often avoid locations where it doesn't seem worth the risk to them.
If you're worried about how security gates and other physical tools look, be sure to get gates that can fold or slide out of the way during business hours. Unlike static security bars, rolling or folding gates can quickly and easily be opened and get out of the way, keeping your store looking welcoming to customers during the day while deterring criminals at night.
Don't Be Obvious with Merchandise
You might be tempted to show off all of the new merchandise that you're getting in. However, placing new merchandise in unprotected areas will attract criminals. As a practice, consider removing expensive items from windows and display cases when your location is closed and returning it when you re-open. This will be a bit of extra work, but it will be worth it in the long run.
In addition, if you're unpacking merchandise, don't leave the boxes visible in the dumpster behind your store. Criminals will notice them and recognize that there is a lot of expensive property in your store. This could give them the motivation they need to commit a crime.
Keep your Eyes Open
One of the most important things that you can do during this holiday is raise your awareness and be vigilant watching out for opportunistic criminals. In addition to smash and grab robberies, shoplifting also increases greatly at this time of year. Stores are busier, there are more products in stock and sales staff are usually preoccupied with other tasks. It's the perfect environment for a shoplifter.
In order to reduce shoplifting, train your staff to be on the lookout for suspicious behavior. In addition, you may want to lock more valuable items behind display cases or in locked cabinets. Small yet expensive items are frequent targets for shoplifters. Locking these items up and requiring that customers ask a staff member to access items, can greatly help reduce shoplifting.
Taking steps to secure your property before a break-in will save you from hassles and unnecessary expenses.
Want some more helpful tips to improving the security of your business? Download our helpful guide to Improving Your Security Mindset.