How Physical Security Products Can Help Secure Retail Stores
Cell Phone Store Robbed Four Times in Four Weeks: How Similar Crimes can be Prevented Using Physical Security Products
A mobile phone store in Orlando, Florida has been robbed four times in four weeks, despite the property having an alarm system and surveillance cameras installed. The Boost Mobile store in Orlando was robbed three times by burglars and then, a very short time later, a man armed with a gun held up the store while it was open.
During the break-ins, the suspects crashed through the front doors of the property during overnight hours. There did not appear to be physical security gates installed at the store.
Thousands of dollars in cell phones have been stolen during the smash and grab robberies. In the recent armed robbery, a man holding a gun demanded money from the cash register and the safe. While the crimes was captured on video by surveillance cameras, the gunman wore a wig during the crime, making it difficult for police to identify him and track him down.
Investigators don't know if the crimes are connected or if the store is being targeted by criminals for any specific reason. No arrests have been made in connection with any of the crimes.
Stores that sell small yet valuable items such as mobile phones and other electronics are frequent targets for criminals, since they can carry a large amount of valuable merchandise out of the store easily and quickly during a break-in.
How to Prevent Retail Store Break ins
Unfortunately, there is no way to stop 100% of all retail store break ins and robberies. However, there are ways to drastically reduce the likelihood of a break-in taking place at your retail location.
Retail break ins and robberies can be drastically reduced by ensuring that you have a variety of different security methods layered together at your business. Criminals want easy targets. They want to be able to get in and out of a business quickly. The more barriers you put between them and the items they want to steal, the less likely they will attempt to rob your property.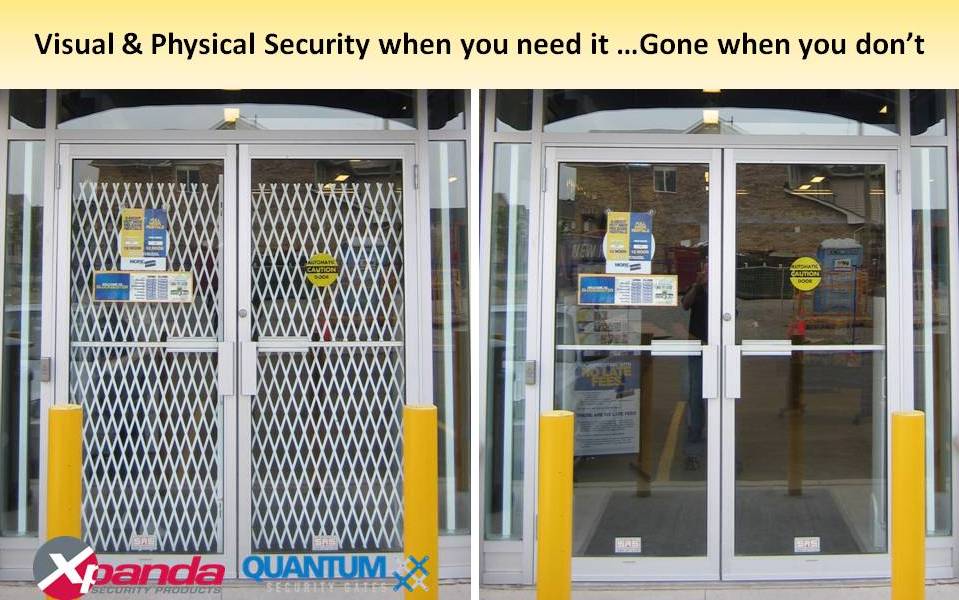 Criminals do not want to be caught in the act. They avoid properties where they feel that the likelihood of being caught committing a crime is too great. An alarm system can get a criminal caught in the act, but only if the authorities are able to respond quickly enough to catch the criminal. Many crimes take only seconds, meaning that it is impossible for police or security guards to arrive in time. Surveillance cameras can also get criminals caught, but only if they can be accurately identified on the security camera footage. Criminals frequently wear disguises to prevent this.
Physical security tools work in conjunction with these security tools. They make it more difficult and more time-consuming to break into a location. If it takes longer to break in, that gives the authorities more time to respond to an alarm. It also gives surveillance cameras more time to capture relevant footage. Installing security gates is a key way to reduce the likelihood of a smash and grab robbery.
Physical security tools such as security gates deter criminals. Criminals don't want to spend a significant amount of time breaking into a property. They know that it will increase their likelihood of being caught in the act. For this reason, criminals typically avoid properties that have security gates installed. It just isn't worth the risk to them.
Want some more tips to improving the security of your business? Download our helpful guide to Improving Your Security Mindset.