How Fast is a Smash & Grab Robbery?
Smash and Grabs Take Only Seconds
Did you know that you could lose thousands of dollars in just seconds? It's possible with a smash and grab robbery. This is one of the reasons why smash and grab robberies are so successful and a common choice for criminals.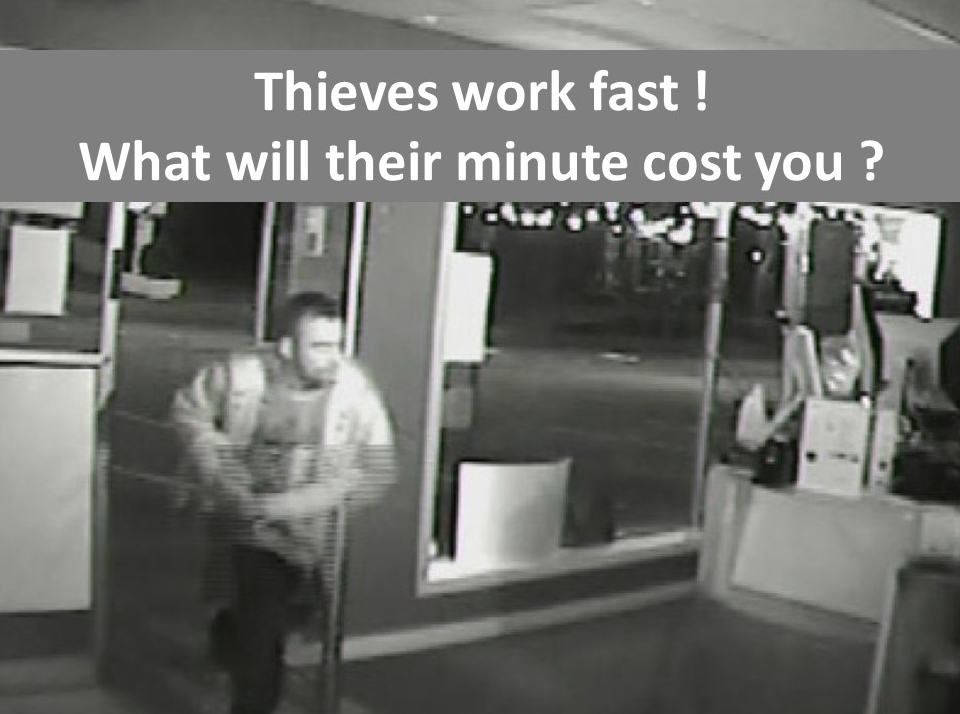 In a smash and grab robbery, a criminal uses force or a weapon (such as a rock, baseball bat or crowbar) to break through the window or door of a property. He or she then steals as much as possible and flees the scene before anyone can respond. In most smash and grab robberies, criminals are looking for small yet valuable items (such as electronics, firearms, medication, jewellery, etc.) that can be carried from the property easily and then resold on the black market.
Speed is important to these crimes because, if a criminal can get in and out of a property very quickly, the authorities cannot respond in time. Even if you have an alarm system on your property and even if the police are contacted the moment the alarm sounds, there's no way that the police can get there in less than a minute. Criminals know this and they take advantage of the situation.
In addition, criminals also often cover their faces with scarves, masks or hoods in order to conceal their identities. This is because many properties have security cameras installed. The speed of smash and grab robberies combined the fact that criminals hide their faces can make it incredibly difficult to identify those responsible for the crime.
Preventing Smash and Grab Robberies with Physical Security Gates
The good news is that it is possible to reduce the effectiveness and the likelihood of a smash and grab robbery. This is done by installing physical security gates at your property.
Security gates are effective for a number of reasons. One major reason is because they make it significantly more difficult to enter a property. As mentioned, most criminals use objects such as baseball bats, rocks, bricks or crowbars to break into a property. Security gates render these tools useless, effectively taking the "smash" part out of a smash and grab robbery.
They also take away the element of speed, which criminals depend on. Even if a criminal is able to get through security gates, it will take them much longer to gain access to the property. This greatly increases the likelihood of them being caught in the act. Criminals know this, so they often avoid properties that have security gates installed.
Physical security doesn't just work to make it more difficult to enter a location. It can also be used inside a property to deter crime and reduce loss. For example, firearms, drugs, electronics and other valuables can be locked behind gates or inside secured cabinets. This makes them significantly less likely to be stolen even if a criminal is able to gain access to a property. Again, this shows how using security gates and physical security slows down criminals, making a smash and grab much less effective and, therefore, less likely.
Want some more helpful tips to improving the security of your business? Download our helpful guide to Improving Your Security Mindset.