Using Physical Barriers to Discourage Smash and Grab Robberies
Deter Criminals with Security Tools
Unfortunately, smash and grab robberies can be quite common. Criminals often use the smash and grab tactic because it is quick and – generally – effective. They can break through a window or a door, steal what they're looking for and get out of the location before anyone can react. Even in cases where an alarm system sounds, it takes time for police and security guards to arrive. Criminals know this and they use this time to strike, steal and escape.
Smash and grab robberies can be very effective. They can also cause significant damage to a property. Smash and grab criminals typically leave chaos and destruction behind. From broken windows and doors to smashed display cases and damaged merchandise, the time, effort and cost associated with clean up and repair after a smash and grab robbery is extensive. Plus, there's also the cost of the stolen merchandise. In minutes – and sometimes even just seconds – criminals can steal hundreds or thousands of dollars from your location.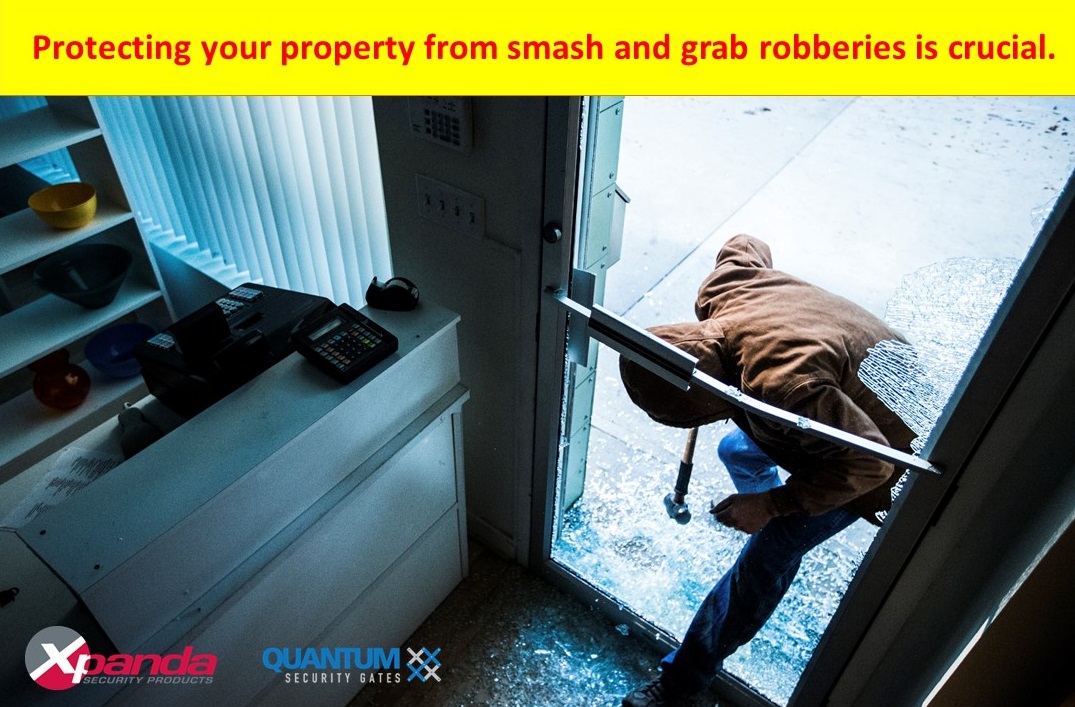 How Physical Security Protects
One effective way to do this is to utilize physical security tools. These tools slow criminals down and this eliminates one of the reasons that smash and grab robberies are so effective: speed. When you have physical security installed, criminals need to spend more time and effort trying to circumvent your security and gain access to your property. This extra time drastically increases the likelihood of a criminal getting caught in the act.
For this reason, many criminals simply avoid striking locations that have physical security tools installed. They don't want to get caught.
As you can see, physical security tools act as a crime deterrent. Due to their effectiveness, they protect your property by causing criminals to think twice about attempting a break in.
Other Physical Crime Deterrents
In some cases, criminals turn to more extreme measures during their crimes. There are even cases of criminals driving cars or trucks through store windows in order to gain access. Obviously, it's very tough to stop a speeding truck heading towards your store. However, that doesn't mean that you can't take steps to discourage crime and protect your property.
For example, installing concrete planters, bike racks and other obstacles in front of your location will reduce the likelihood of a criminal breaking in.
You can also improve security inside your store. You may wish to lock up valuables in secure cabinets each night. This way, even if a criminal does break into your property, he or she won't be able to access your most valuable merchandise.
Putting up barriers and deterrents is crucial when it comes to securing your property. While alarm systems and security cameras certainly have their benefits, they work best when they are part of a layered security system that includes physical protection.
Unfortunately, you won't be able to create a system that makes your location 100% impossible to break into. No system can guarantee that there is absolutely no way to break in. A criminal with specific tools and enough time can break into almost anywhere. However, you can drastically reduce the likelihood of someone being able to break in to your location to the point that they don't even want to try. You can do this by using physical security tools and layering security.
By analyzing your premises and taking steps to improve security, you can reduce theft and protect your property.
Want some more tips to improving the security of your business? Download our helpful guide to Improving Your Security Mindset.