Why are Cellular Phone Stores Targeted by Smash and Grab Thieves?
Why are Cellular Stores Highly Targeted by Smash and Grab Thieves?
As thieves target cellular stores, it's becoming very common to read "In the early morning hour" and "officers discovered that a window had been broken and that the business had been burglarized". Usually what follows that is: the suspects were seen on surveillance footage.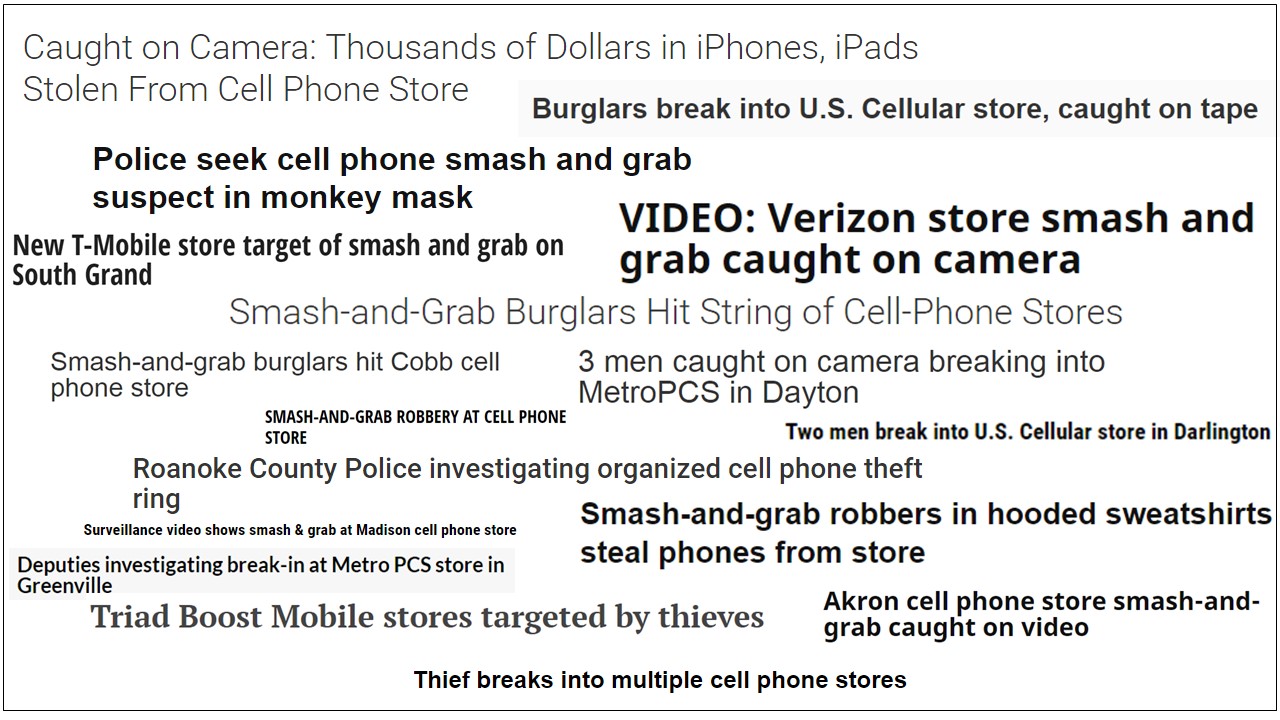 Why are these opportunistic criminals targeting cellular stores?
First, to understand these opportunistic smash and grab thieves, most often they are not highly skilled thieves, nor do they go through a lot of thought like we see in movies before they plan the break in. These crimes are mostly committed by opportunistic criminals looking for a quick score.
The thieves are either looking to satisfy a want they may have, or they are looking for small items that they can sell easily for quick cash out of desperation for an addiction or to put food on the table. These smash and grab style break ins are usually done quickly.
Cellular phones can be expensive
It does not take a lot of them, to steal $10,000.00 or more in very little time. One minute may not sound like a long time, but test it yourself. See how much you can grab in one minute, and how much area can you cover in one minute. Thieves are usually in and out before police even have a chance to arrive on scene. By that time, the damage is done, and the thieves have left the area.
There are many frustrations associated with a smash and grab incident, including financial loss of the products, the additional costs of the damage done to the store, the potential insurance premium hike as well as the stress caused by the incident.
As long as retailers have sought out highly valuable items that appeal to criminals, without any sort of deterrent to keep them out, it is a matter of time before an attempted may be made by an opportunistic thief.
It can be costly to protect your store, but well worth it in the long run. Taking all the steps you can will help deter these crimes of opportunity, and protect your investment and your bottom line.
Five tips to help protect your merchandise:
Remove all display items that are of value
Lock up inventory in a solid strong steel cabinet or safe in a locked and secure room.
Use a quality reputable wireless/ cellular alarm system and service, making sure that all areas are properly monitored, door alarms, glass break sensors and motion sensors.
Install quality video surveillance system, mount a camera or two in a unique location to try and capture a face or other features that the police can use.
Install storefront protection, such as roll down shutters, folding security gates or fixed mounted window bars.
Be smart, be proactive, expect the unexpected and never assume you will never get hit because of the area your business is in. Thieves have cars and will travel to places that are not expecting them to better their odds.
We have some more helpful tips to improving the security of your business. Download our helpful guide to Improving Your Security Mindset.