How to secure your retail store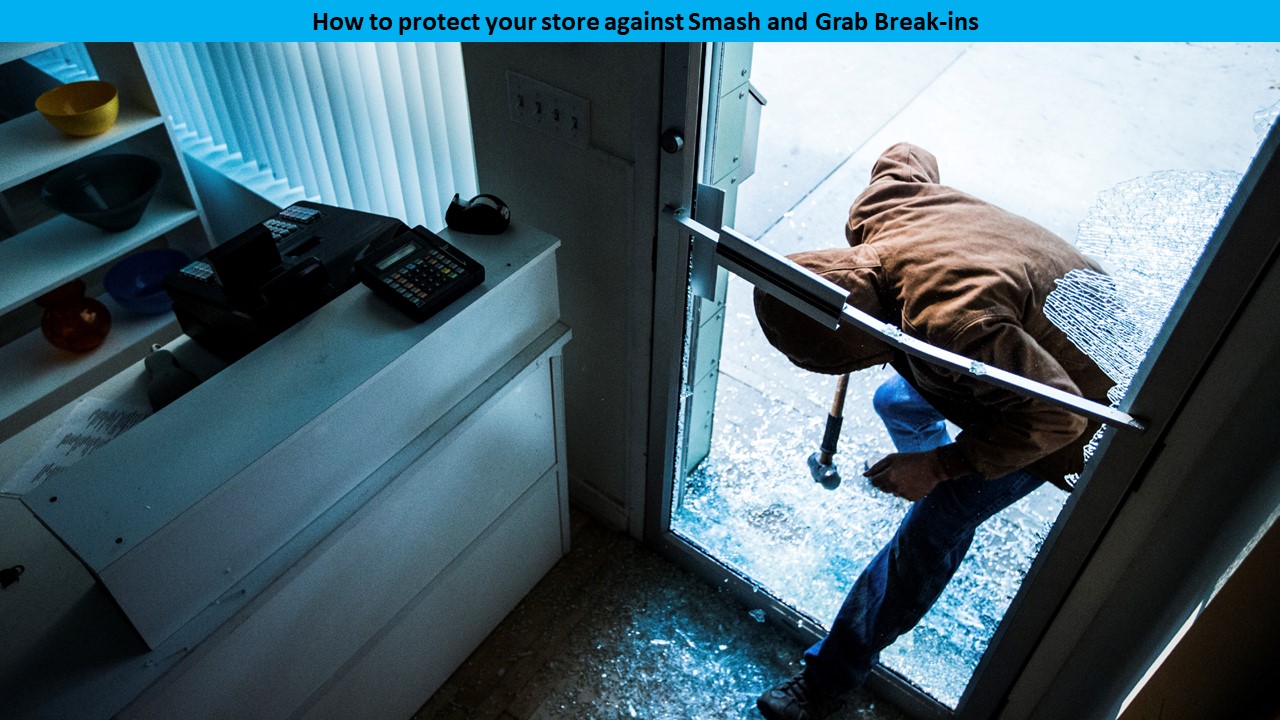 How to secure your retail store.
Smash and grab robberies happen quick and often, regardless of how safe we feel our area may be. I wanted to explain some ways of how to secure your retail store.
Opportunistic thieves look for a quick and easy score, stealing items for self-use, or for the black market for easy money. High risk items often include cellular phones, computers, electronics, sporting clothes and goods, guns and anything that will grab a quick dollar on the black market.
How do we stop it? this type of crime has been around as long as there have been retail outlets.
What we can do is look at our store and all the security tools that are available to us. Security is about building layers of defense. You may have an alarm or a video surveillance system, and those are great tools to alert you, and may help identify the thief who broke into your store.
Alarm Systems
Alarm systems alone may not deter an opportunistic criminal as they know that its about response time. How long is less than 2 minutes? Try it, walk into your store, walk around for 2 minutes see and feel how long 2 minutes actually is………. you may be surprised.
The alarm system does play an important roll in protecting your assets, and make sure to check that the system is working properly, and all sensors are responding the way they should. Adding glass break sensors will help alert you quicker. Door sensors do not help you if they break the door glass, they are inside, and you are relying on motion sensors now to alert you.
Video Surveillance
Video Surveillance is also an important security tool, make sure that you have high quality HD camera system, so that authorities can better help identify how they broke in, what they used, unique clothing identifications. Remember that most criminals know that there are cameras, and they will wear disguises.
Physical security is designed to deter, slow down thieves. Often physical security products are considered ugly and will affect customers coming into you store, a perception of an unsafe area.
Here are 4 physical security tools that will help deter and slow down an opportunistic criminal.

Roll Down Security Shutters
These can be mounted inside or outside of your store. Roll down shutters are generally constructed from aluminum slats that run in a aluminum extruded rail on each side and roll up into a box overhead. They do have limitations width and height limitation; multiple units may be required to secure your whole store. They will require proper structural support to hold the weight and vibrations. When the shutter is in the up position, only the upper box and side rails are exposed. Roll down shutters can be operated manually or electrically. A shutter should be equipped with battery back up to help you when there is a loss of power.

Security Grilles
Security grilles / curtains are aluminum panels that are suspended from a top track secured in your ceiling. These types of systems are preferred in shopping malls, they can have glass panels or different aluminum panels to allow for an inside view of the store when closed. Proper structural support is required to hold the suspended weight of the curtain. They are manually operated, can come with a egress door when required. Multiple locking points. Often a pocket is built on the sides of the store to hide the curtain when not in use.

Security Gates
Security gates for retail stores are constructed of tubular steel that is powder coated and have a diamond pattern design. There is no real structural support required, often the security gate can be mounted directly to the storefront window and door frames. Window security gates should have a lock permanently secured to the gates with a steel shroud. The window security gates can pull across when you need them and retract and fold up to 180 degrees when not needed. The security gates used for doors are heavy duty double diamond gates, these gates are constructed of twice the normal amount of steel tubes making for a tight diamond pattern. This along with a radius cover plate will help protect the thumb turn or ADA lever lock which provides keyless egress where needed. The security gates are built to suit your store front windows and doors. Powder coated finish provides both a visual deterrent as well as a strong physical solution that can be retracted when not in use. Security gates are a cost-effective solution that will provide you the peace of mind when you need it with the aesthetics to keep your customers coming in.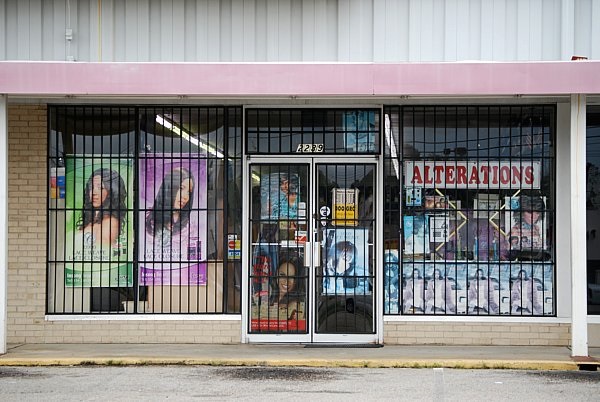 Security Bars
Security bars are custom made by local welding shops. Older stores used security bars when store image was not as important as it is today. Security bars are generally made from solid steel square bars and are mounted inside or on the window frames. These bars do not retract and stay in the window, therefore store employees and customers say the stores look like a prison. This solution is often the least expensive way to secure your store, but the effects of the prison look may affect your daily business.
Big box stores may have a larger budget than you, but they are also at greater risk with many more locations. Image is as important as the level of security and costs.
Look for reputable security companies that can provide you the support you need and will work within your budget. Estimates as well as advice is free, by providing an image with some details of your store a security company can help you right away.
I have been securing retail stores for over 20 years, I understand the risks of smash and grab break ins and how to secure your retail store.
If you have enjoyed this post and have found it helpful, I'd be very grateful if you can share this blog by emailing to your business friends or sharing it on social media.
I have a free helpful 25 tip security guide download on my website or click this link https://goo.gl/roh9RM
If you have any questions or concerns, please do check our website Https://www.xpandasecuritygates.com
Email us at info@xpandasecuritygates.com
Nick Rykhoff
President Xpanda Security Products