Airport Security with Physical Gates
---
Using Physical Security Gates to Solve Airport Security and Event Access Control Problems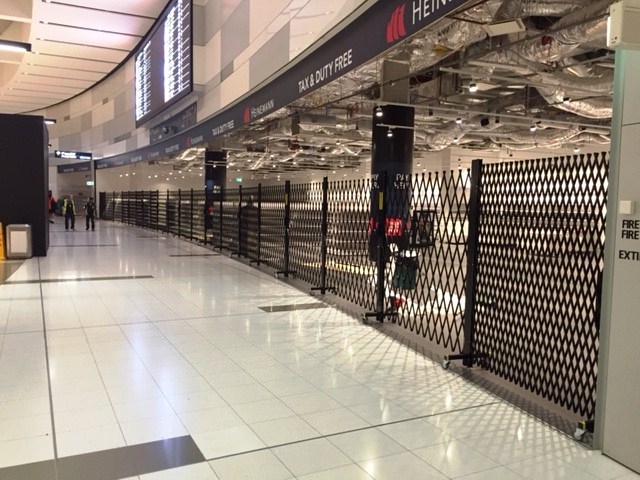 Protecting airports and large event venues requires strong access control. Facilities such as airports often have a large number of people on site and the security needs of these properties frequently changes, sometimes even multiple times throughout the day. For instance, venues may have staging areas that are meant for staff only, but the size and location of these areas could change depending on the event. In an airport, certain gates or terminals may be closed or opened throughout the day, depending on current needs.
In busy areas like airports and large event venues, it can be difficult to control crowds. Physical security gates are a critical part of access control in such locations.
Choose Xpanda for Physical Security
Xpanda has been a leader in the physical security industry for more than 30 years. We provide and install high-quality security gates throughout Canada, the United States, and Mexico. No matter what your business is looking for, Xpanda has physical security solutions that will meet your needs. Our products are backed by a strong two-year warranty, available in four powder-coated color options, and are a strong visual and physical deterrent. You can trust Xpanda to do what is right for your venue.
How Xpanda Gates Overcome Access Control Challenges at Airports and Large Events
Locations such as airports, arenas, concert halls, and large event venues have their own security issues. One major concern in these venues is the size of the crowd. With large crowds, it becomes difficult to control access with alarms or surveillance cameras, and using security guards to monitor large crowds quickly becomes very expensive.
Physical security doesn't just keep people out of restricted areas, but it also works as a visual deterrent. Having locked gates in front of a door or hallway immediately lets people know that a region is off limits. You won't need to have staff stationed in these areas to direct people. This isn't just cost-effective, but it also reduces delays. At airports and event venues, time is important so you don't want a confusing or time-consuming security processes.
Another concern at large venues is that certain areas may be off limits while others can be open at the same time. For instance, consider a retail or food and beverage kiosk that is only open from 9am to 5pm while the airport is open 24/7. This kiosk needs to be secured. The same is true for various areas in arenas, concert halls, airports, and other such facilities. Depending on the event and the crowd size, certain portions of the building may be closed to the public while the rest of the venue is open.
Large venues must have adaptable security. If crowd sizes grow or if there is a sudden increase in demand at a certain location, you need to be able to open additional areas quickly and easily.
Physical security gates help overcome all these security issues. They can be adjusted, moved, and locked and unlocked with ease, allowing for flexible security that can change as needed to meet the needs of nearly any venue.
The Benefits of Physical Security Gates
As mentioned, physical security gates actively keep criminals and unauthorized individuals out of an area. They can be used at venues of any size (from a small studio to a large international airport) to restrict access and increase safety.
They not only work as a physical barrier, but also serve as a visual deterrent, letting people know immediately that an area is off limits.
Security gates also allow you to better allocate your security resources. If guards are not required to provide access control, they can be used in other areas, improving the overall security and safety at a property.
Since security gates are adaptable and can be moved quickly. Large venues are able to open and close gates as needed through the day to respond to changing conditions, accommodate larger crowds, and reduce potential bottlenecks and delays.
By effectively using physical security gates – including mobile security gates – airports, arenas, concert venues, and other such facilities can improve security without creating delays or drastically increasing costs.
For more information on airport security, large venue security, and our extensive line-up of physical security solutions, please contact us today.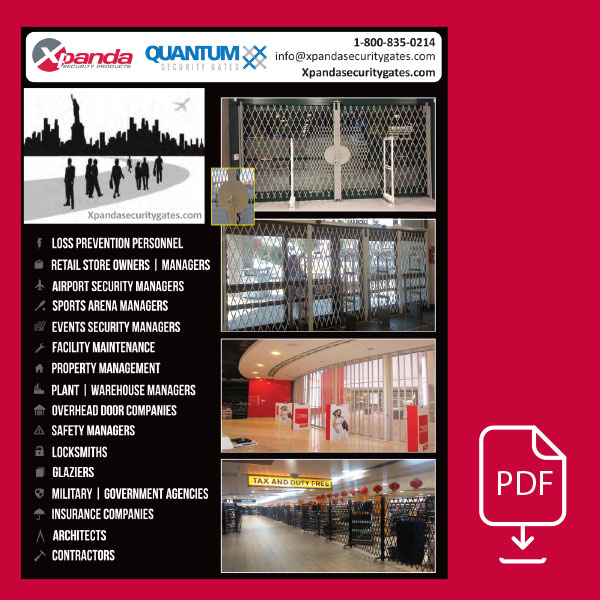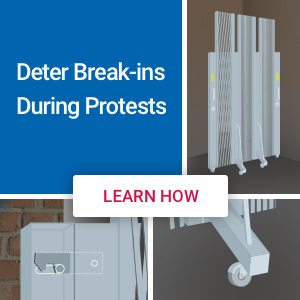 Improving Your Security Mindset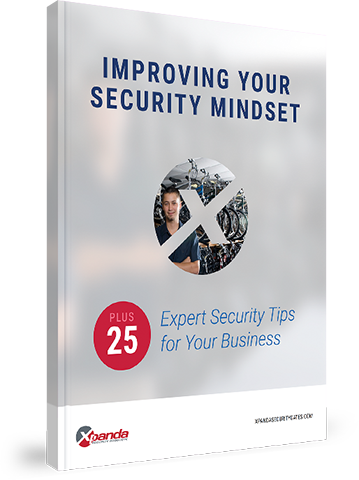 Get our free guide to facing the everyday challenges of ensuring your business' security, plus 25 expert tips that you can implement fast.